Product List
AUTOMATED SAMPLING
TOXIC GAS INSTRUMENTS

ACCESSORIES

ADDITIONAL SERVICES

Nano IAQ Profile Monitor
The New nano IAQ (Indoor Air Quality) Profile Monitor is our most compact unit to date. Measuring just 71mm x 71mm x 26mm, it is small enough to be placed around your home or office without being visible.

The nano IAQ Profile monitor has been designed to give a visual representation of indoor air quality in buildings, as part of the buildings management standards in relation to conditions such as Sick Building Syndrome. Since a great number of units can be networked, the system can show prescise changes in concentration of selected IAQ parameters in various locations over time. The Nano IAQ Profile Monitor uses the sophisticated and reliable ZigBee wireless mesh system. The mesh network system is costeffective, easy to install and simple to use: the nodes which make up the mesh automatically configure the optimal signal route.
Other advantages of a wireless mesh system is that it is self healing meaning that the network can still operate even when a node breaks down or a connection goes bad. As a results, a very reliable network is formed. The size of the wireless mesh can be easily extended by simply adding new IAQ Profile Monitor units as each one is also a router for it's neighbours. In areas where no IAQ monitoring is required then dedicated "Repeater" nodes can be used for the same purpose. Power Amplified Wireless Modules are also available, these have more powerful antennae to considerably increase the transmission distance and consequently reducing the need for repeaters and simplifying the network.
The Manager PC connects to the mesh network via a special node which is capable of recieving and transmitting information to the Micro IAQ Profile Monitor. The Manager PC can view, run and control the realtime monitoring and data logging of air quality in a bulilding at the click of a button. The PPMonitor software enables the data to be viewed graphically, produce reports and statistical data, run schedules as well as alarm functions and notifications for more effective and economical building management.
The compact Nano IAQ Profile Unit is available in two main sensor configurations.
Configuration 1: Carbon Dioxide (C02)
Configuration 2: Temperature and Humidity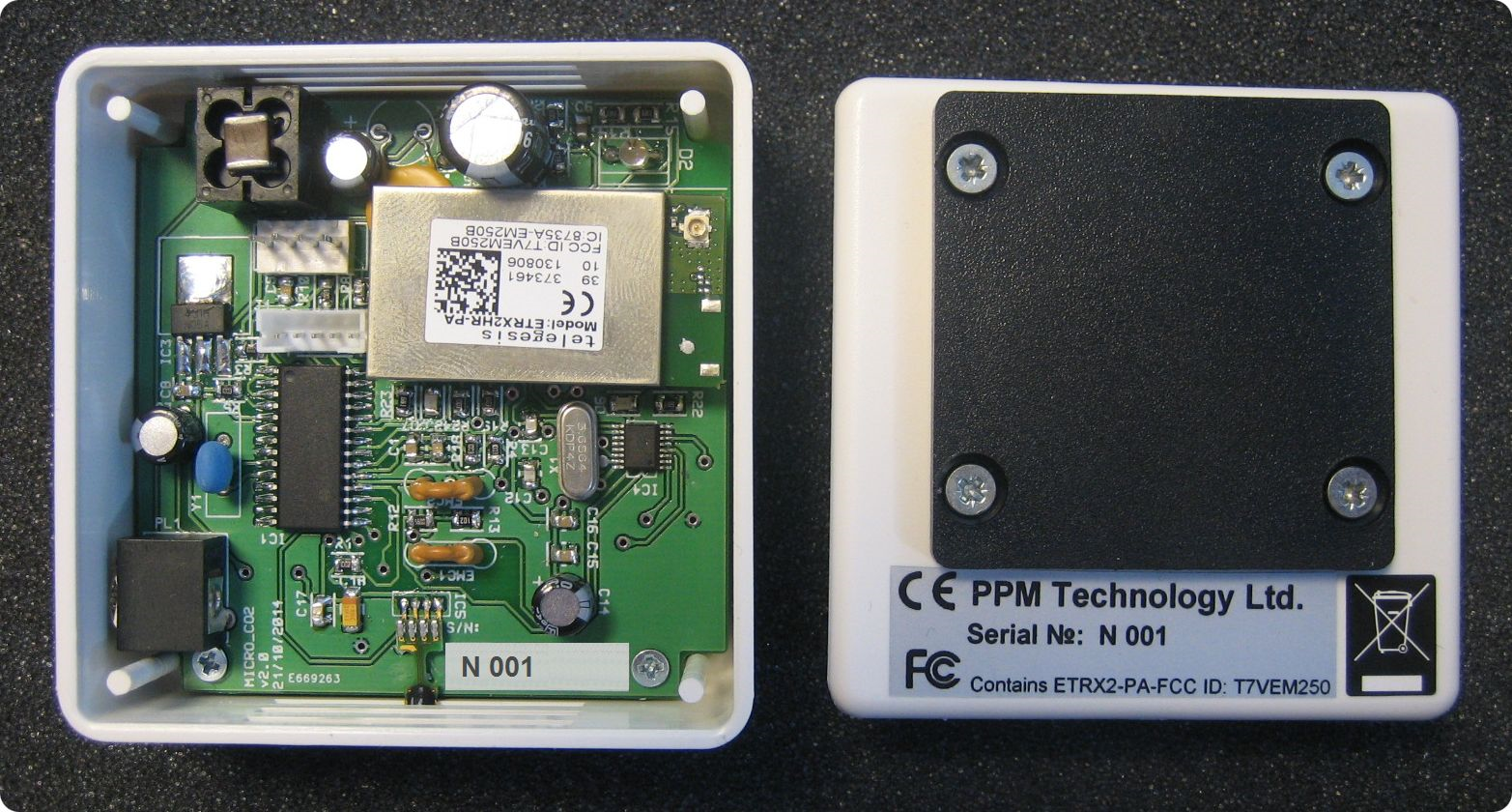 Compatible with the NEW PPM Technology Base Station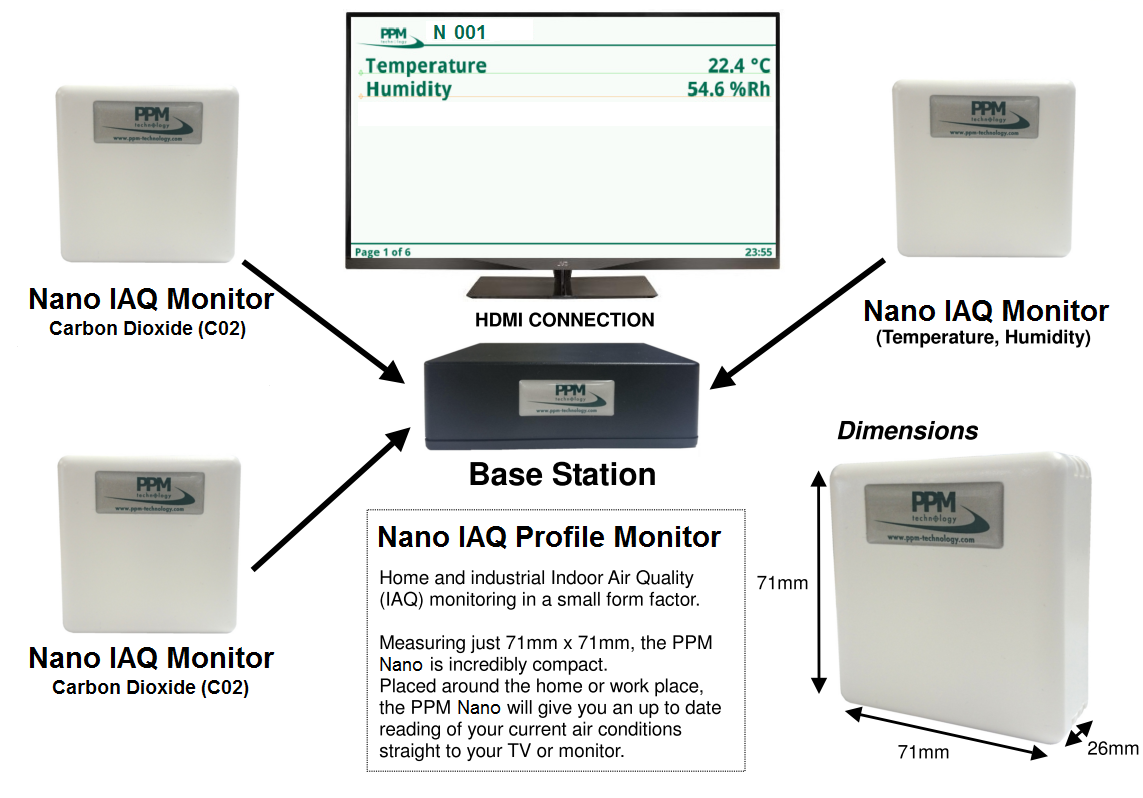 Instrument Specifications
Mains Powered
5v DC via external DC adaptor with 2.5mm diameter jack plug
Operating Range
0-30oC, 15-90%RH
Dimensions
71mm x 71mm x 26mm
Easy to Install
Master Node connects easily to the Manager PC via the USB port. Unit easily wall mounted via included slimline bracket
Software

Built in PPMonitor Wireless exclusive management software for Managment PC

***Requires Windows XP Professional Edition or Windows 7 Professional Edition or Windows 8***

Sampling Rate

Configuration 1 (Carbon Dioxide): 1 parameter data value every minute.

Configuration 1 (Carbon Dioxide): 1 parameter data value every minute.
Zigbee Alliance Mesh Networking System
| | |
| --- | --- |
| Low Power | 2.4GHz ISM Band Reciever |
| Antennae | Built in antennae |
| Data Rate | 250kbit/s over the air data rate |
| Channels | 16 channels (802.15.4 Channel 11 to 26) |
| Power | +3dBm Output power (+5dB Boost mode) |
| Sensitivity | High sensitivity of -98dBm typical at 1% packet error rate |
| Memory | 128k flash, 5kbytes of SRAM |
Dimensions
PPMonitor Software

Click on the following links to see the PPMonitor software in action
• Time Lapse 9am-6pm » Statistical Data and Alarms » Multiple Units and Time Options •
Sensor readings taken over a period of two days
Temperature » Humidity » Carbon Dioxide » Carbon Monoxide
IAQ Profile Monitor Case Study